Memory Map 1:25,000 Scale
Pays de Loire - Poitou Charantes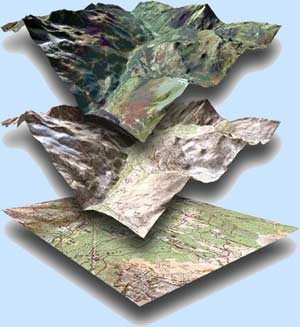 This title covers departments n. 16, 17, 44, 49, 53, 72, 79, 85, 86.
About this series:
The IGN France Top 25 Premium Edition - DVD series covers the whole of the country at 1:25,000, using the high quality IGN Top 25 topographical maps and detailed aerial photography.
IGN is the French mapping agency; it is the equivalent of the UK's Ordnance Survey and is reputed for providing detailed high quality maps.
There are 10 DVD titles in the series, each also including a 1:250,000 road map covering the whole country.
Features:
- Multimedia Route Card - add notes and photos with time, distance, coordinates and hill profiles
- 3D-World - visualise terrain in continuous 3D landscape also creating 3D Fly-through movies of routes and tracks
- QuickChart - quickly and easily move the map by simply clicking and dragging - even on a Pocket PC
- Multi-page maps - custom prints at any scale with automatic paging for longer routes
- Route and track formats - choose styles and sizes to personalise maps
- Overlay Manager - easy to use route, track and waypoint organiser
- Performance Review Profiles - view your speed, altitude and even heart rate against GPS tracklog
- Program a GPS from your PC or Pocket PC reviewing GPS tracks to see where you've been with unrivalled GPS support
- DigitalGPS - data displays for position, altitude, waypoint alarms, bearing, distance, VMG & ETA, destination ETA & distance, route cross track error
- Pocket Navigator - moving map Pocket PC navigation software with DigitalGPS data displays and advanced features including route planning, handheld GPS programming and hill profiles
Minimum system requirements:
PC:
Microsoft Windows XP or 2000
256Mb RAM
200Mb hard-disk space
Minimum screen resolution 800 x 600
3D-World requires Microsoft Direct-X graphic support - check PC compatibility using Free Trial download
Pocket PC:
Microsoft Pocket PC 2000 or Windows Mobile for Pocket PC 2002 or later with ActiveSync connection
16Mb RAM
Additional storage card recommended
Minimum screen resolution 800 x 600
GPS:
Garmin, Magellan, Navman, Silva, Suunto or NMEA/SiRF compatible.
Some GPS units do not support all mark, route, track and heart rate features check the compatibility at www.memory-map.co.uk or ask your GPS supplier.
The Top 25 products are also available on CD-ROMs:
The Memory-Map IGN France Top 25 Standard Edition - CD-ROMs range splits the Premium Edition areas into small sub-sections (a, b, c, & d) giving 38 titles to cover the whole of France.
£99.99 inc vat or buy on finance